Life Science Sector Fuels Irvine Economy
WHERE IN THE WORLD DO YOU WANT TO GROW YOUR BUSINESS?
Irvine was master planned to be an economic powerhouse and it lives up to its reputation. It remains the address of choice for companies and cutting-edge industry sectors including life sciences, information technology, digital arts & media and advanced manufacturing. Known for its global companies and robust life science strength in medical technology, medical device, and pharmaceutical, Irvine generates, attracts and retains the best talent and delivers the most accessible, collaborative and innovative environment in Southern California. Irvine's reputation makes an impression here and around the world.
IRVINE/ORANGE COUNTY INCENTIVES
▶ Capital & Funding – access to the biggest angel and venture capital network in the U.S.
▶ Strategic Location – at the center of Southern California's innovation eco-system, leveraging Los Angeles and San Diego metro areas for talent, capital, and collaboration.
▶ Life Science Cluster Strength – strength in numbers, over 450 life science companies in Irvine alone; over 900 in Orange County.
▶ Cutting Edge R &D – University of California, Irvine, and fifteen other colleges.
▶ Startup Now OC! – OCTANe, UCI Applied Innovation, CaliT2, EvoNexus, People Space - an energetic, collaborative startup eco-system and launch pads specializing in medical device, ophthalmology, biotech and the full spectrum of technology.
▶ "Business-Growing" Logistics:
#1 and #2 ports in the United States - Port of Los Angeles, Port of Long Beach
Crossroads of major north/south, east/west freeway intersections
Three airports – John Wayne Airport, LAX and Long Beach
Full range of logistics, supply chain, and professional service support system
▶ Market Proximity – easily access US, Canada, Mexico, and Asian market customers.
▶ Work-Ready Talent – abundant, highly educated workforce and natural attractor of top talent.
▶ Cost of business (leasing, goods & services, labor, housing) – 50% less than Silicon Valley, at least 15% less than Boston or San Diego!
---
"Irvine became a natural choice for our company. Irvine is the home of the medical device industry and HQ to global successes such as Masimo and Edwards Lifesciences. Being based in Irvine has enabled us to attract some of the brightest talent in our sector to our company. It is a real growth area for young and experienced engineers of all descriptions. In addition, Irvine is home to some of the best med-tech manufacturers. 
Since opening here we have forged great partnerships with a number of companies both in R&D and manufacturing. John Wayne Airport makes commuting to the East Coast straightforward and with easy access to the highways, Irvine is a great place to commute in and out of. Surrounded by Newport Beach and Laguna Beach it is a great place to live, shop, and build a life."       
      - Michael Seres, CEO - 11 Health & Technologies Inc.
---
CALIFORNIA STRONG
California makes things happen. California is, and will always be, a hub of innovation. It sets the pace for technology advancements, so firmly integrated into all life sciences, and in so doing, sustains its abundant resources, attracts the best talent and builds its well-earned reputation.
CALIFORNIA INCENTIVES
▶ California Competes Tax Credit – income tax credit available for businesses who want to come, stay and grow in California.
▶  Manufacturing + Sales & Use Tax Exemption for manufacturing R & D, Biotech manufacturing equipment, biotech R&D and associated tenant improvements.
▶  California Infrastructure and Economic Development Banks Export Financing Program
▶ Investor VISA programs
▶  California Centers for International Trade Development (CITD) – Import, export and foreign investor assistance.
▶  U.S. Commercial Service – export and FDI investment assistance.
▶  Small Business Administration and Small Business Development Centers – access to capital and export assistance.
▶  California's Innovation HUB Program – California is home to the largest innovation network in the country. Sixteen innovation HUBs stimulate partnerships, innovation, R & D and investment.
▶  California State Trade Expansion Program (STEP) – helping companies begin to export or expand exporting into new markets.
▶  Foreign Trade Zones - Foreign trade zones promote trade and commerce by eliminating or reducing the unintended costs or obstacles associated with U.S. trade laws.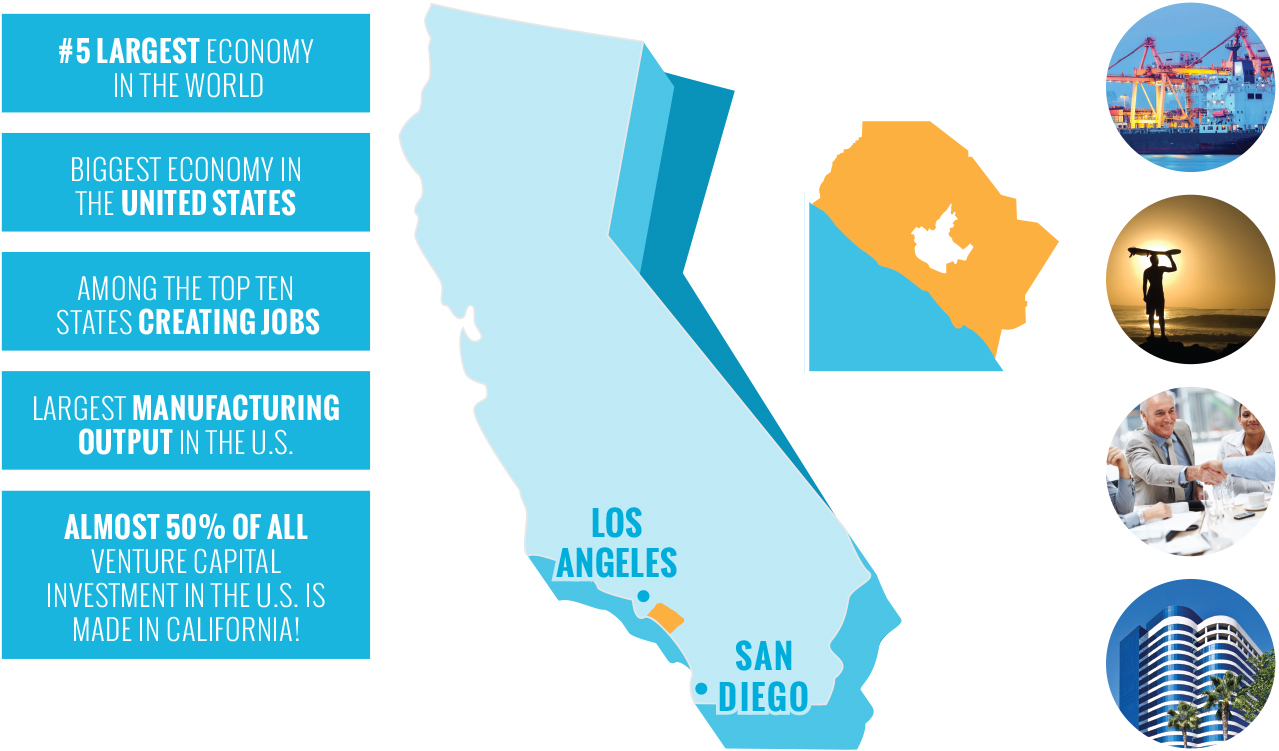 The Greater Irvine Chamber's professional team helps businesses connect with people, resources, new markets, customers and capital. We encourage and nurture startups. We advocate for business interests. We pave the way for business success. We help foreign-owned companies find a "home" in Irvine/Orange County, California.